Danielle Wilde describes her latest project, the hipDisk, as being possibly the most undignified musical instrument ever. hipDisk exploits changing relationships between torso and hip to actuate sound.
Available online in cooperation with Raudio, is a 24 hours / 7 days a week webcast. Enjoy!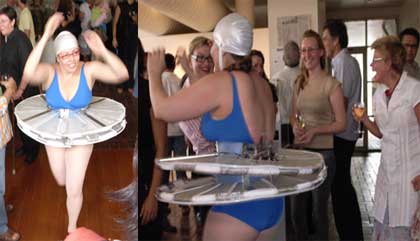 Simple horizontal disk-shaped extensions of the body exaggerate the interdependent relationship of the hip and torso. Soft switches, strategically placed around the perimeter of each disk, allow the wearer to play a chromatic scale, and thus simple melodies, restricted only by flexibility and speed of swing.