we make money not art says:
The purpose of the Counter-Surveillance Headdress, by Gloria Sed, is to empower the wearer by allowing him/her to claim a moment of privacy in the Big Brother world.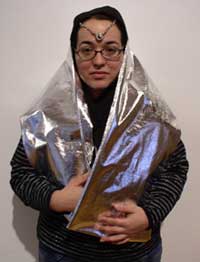 The design of the headdress borrows from Islamic and Hindu fashion to comment on the racial profiling of Arab and Arab-looking citizens that occurred post-9/11. The design of the headdress is thus a contradiction: while its goal is to hide the wearer, it makes the wearer a target of heightened surveillance.
The laser tikka (forehead ornament) is attached to a hooded vest and reflective shawl. The laser is activated by pressing a button on the left shoulder of the vest. When pointed directly into a camera lens, the laser creates a burst of light masking the wearer's face. The wearer can also use the reflective cloth to cover the face and head. The aluminized material protects her/him by reflecting any infrared radiation and also disguises the wearer by visually reflecting the surroundings, rendering the wearer's identity anonymous.
For more information on "camera zapping" with lasers. No os perdáis este enlace